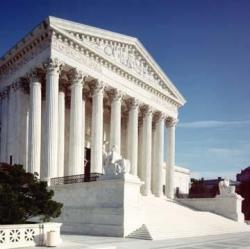 U.S. Supreme Court
The Law and Society Program offers an interdisciplinary major for students interested in pursuing law school or careers that incorporate a strong legal element, such as government, law enforcement, business and social work. As a supplementary major, it must be taken in conjunction with a regular major. Some courses may double-count toward a student's regular major or General Education requirements. Students should check with academic advisers in their primary major.

The Law and Society Major requires 24 credit hours, with at least 18 upper division and 6 taken outside of the student's primary major. Students pursuing this major must declare it prior to completing the last 9 credits of the program.

Based on feedback from former students who attended law school, the curriculum requires courses in communication skills and critical thinking as well as classes using the case-book method, such as Constitutional Law, Civil Liberties and Criminal Procedural Law. Courses examining judicial process, the courts, and the Supreme Court are available as well. The program also offers courses that examine a variety of contemporary legal issues, from Law & Sex and Correctional Law to New Mexico Law and Consumers & the Law.

Check the undergraduate catalog for the course requirements and the Schedule of Classes for current offerings.

Law & Society faculty occasionally offer workshops on taking the Law School Admissions Test and applying to law schools. Look for upcoming events on this Web site.


Law School Admissions Test

NMSU is now an official site for the LSAT. For more information or to register for the exam, go to www.lsac.org or call (215) 968-1001.
Important Links