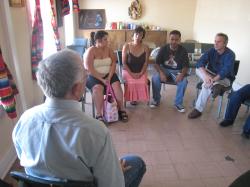 Service Learning Class: Social Justice on the US-Mexico Border
The study of government (political science) blends the strengths of a liberal arts education in public affairs with a preparation for careers in federal, state & local government, in law, in public administration and non-profit management, in electoral politics, and in public policy analysis. It also serves as an excellent basis for students seeking careers as social science teachers in secondary schools, or as preparation for advanced academic work at the masters or doctoral level.

The major requires 33 credit hours in Govt courses, with at least 20 credits upper division (300 level or above). Both Govt 100G – American National Government – and Govt 110G – Introduction to Political Science – are required, as is an upper division course in social science research methods, such as Govt 300 (note: courses taken outside of the major may satisfy the research methods requirement but not count toward the 33 credit hours in Government). Students must also take Intro Government Seminar (1 cr.) in their freshman year and Govt 415 (2 cr.) Senior Seminar in Government in their senior year.

In addition, majors must complete one upper division class in four of the six subfields of political science: Public Administration, American Politics, International Relations, Comparative Politics, Political Theory, and Public Law. Each subfield has its own numbering, with Public Administration courses numbered in the -20 and -30 series, American Politics in the -40 and -50 series, International Relations in the -60 series, Comparative Politics in the -70 series, Political Theory in the -80 series, and Public Law in the -90 series.

Students also are encouraged to participate in hands-on learning opportunities, such as Internships with government officials, campaign organizations or public & non-profit agencies (Govt 410), Service Learning Courses (Govt 411), and Student Government Practicums which are available to students serving in elected or non-elected student government positions (Govt 412). Special academic training exists for those wishing to compete with the Model United Nations (Govt 313 and Govt 314).
Internships-Earn credit through hands-on experiences with public agencies, elected officials, non-profit organizations, community organizations and campaigns.