Government classes attract a variety of students, from those seeking a broad-based education, to those focusing on a specific career. An up-to-date working knowledge of government is important for everyone– active citizens, lobbyists, decision makers, journalists, community organizers, policy analysts, campaign professionals, managers, and government employees alike.

The subfields we offer are international relations, comparative politics, public law, political theory, public administration, public policy, and American politics.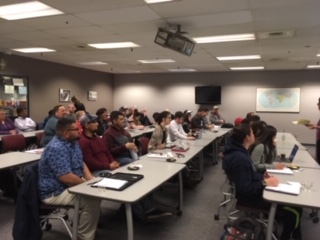 Nick Franklin Government Seminar Room (Breland Hall, 179)

Approximately 100 undergraduates major in Government (political science) and more than 60 are enrolled in the Law and Society Supplemental major. Many majors have distinguished themselves in the Model United Nations, the Honors College and the Crimson Scholars Program. Students are leaders in university and community affairs. Pi Sigma Alpha, the national political science honor society, has an active on-campus chapter, offering graduates as well as undergraduates opportunities for professional contacts.

Two graduate programs are available as well, an M.A. in Government and a Masters in Public Administration (MPA). Both offer multiple opportunities for academic and professional development. In addition, we offer a graduate minor in security studies.

International students are urged to contact International Student and Scholar Services, in the Office of International and Border Programs. Information about applications, immigration requirements, resources for students, undergraduate and graduate degree programs and more is available at: https://isss.nmsu.edu/.



For information regarding graduate school, follow this link: https://gradschool.nmsu.edu/