Important information on Coronavirus:
For all the most reliable and updated information on the coronavirus pandemic and access to public health services in New Mexico, please see the NMSU website here .
Welcome!
---
Fall 2021 Classes
Classes in Fall 2021 include some hybrid, but mostly traditional, face-to-face offerings. Please contact either the course instructor and/or Dr. Neil Harvey (Department Head) at nharvey@nmsu.edu if you have any questions about a particular class or general questions about the Fall 2021 semester.  
---
NEW! Want to Present your Research?
March 29, 2021 Deadline: Want to Present your Research? The Political Science Honors Society Pi Sigma Alpha is partnering with the Honors College to host a POLS section of this years Undergraduate Research Conference (URCAS). Please see the flyer and submission form. This is a great opportunity to showcase your research! Please submit a short abstract or summary to nmstatepsa@gmail.com by March 29th, 2020 at 11:59pm. This is also a wonderful chance to discuss your ideas - completion is not a requirement for presenting. And: There is prize money: 1st ($100), 2nd ($75), and 3rd ($50) place!
---
NEW!
Are you interested in political issues, such as voting rights, the upcoming elections, international relations and political philosophy? If so, please join the NMSU chapter of the National Political Science Honor Society (Pi Sigma Alpha). See this Application Flyer for details. For more information, visit our Pi Sigma Alpha web page.
---
NEW!
We are very grateful to one of our distinguished alumni, Mr. Jose Uranga (NMSU BA Government 1969) who has donated a collection of US presidential campaign buttons from the time of George Washington to the present. The collection includes many rare items and is available for use in our classes and research. Adrian Molinar (NMSU Masters in Public Administration 2020) produced an overview of the collection which you can see here. We are also grateful to Mr. Uranga for establishing a new endowed scholarship to support students with interests in law and law-related careers. See this brief description of Mr. Uranga's career in public affairs and environmental law: Jose Uranga bio 2020
---
Recent Events:
Wednesday, December 2, 4.00-5.30 pm
Elections 2020 – Webinar Discussion and Q&A
Please join us for a Post-Election Webinar with Government Department professor Dr. Tad Conner, students Kohlby McInnes, (Senior, MA Government and Government Graduate Students Organization, GGSO), Courtney Komes (Senior, BA Government and President, Pi Sigma Alpha) and Ethan Sullivan (Senior, BA Government), as well as New Mexico State Representative Angelica Rubio and NM State Senator-Elect Carrie Hamblen, who are both alumni of our department. For details on how to view a recording of this Webinar, see post election webinar
---
Recent Events:
Read the report "The Pains & Profits of Immigrant Imprisonment: Migrant Testimonies from ICE Detention Centers in the El Paso ICE Field Office." Click AVID NSF-REU Report Final Version 25 November 2020. This report is the result of collaborative research between Advocate Visitors with Immigrants in Detention (AVID) and student participants in the National Science Foundation-Research Experience for Undergraduates (NSF-REU) Site Program on Immigration Policy and Border Communities. 
---
Staffing of Administrative Offices
For information on the staffing of our administrative office in Fall 2021, please click  here
---
Model United Nations at NMSU:
Interested in international affairs and participating in a dynamic student organization with a track record of success? If so, learn more about the Model UN program and how to join: Email aggiemun@gmail.com. 
---
NMSU Ready Plan
Please read and follow the weekly updates in the NMSU Ready Plan (updated every Tuesday) which describes the safety protocols and expectations for students, faculty, staff and visitors, as well as a list of Frequently Asked Questions.
---
Department of Government, New Mexico State University
Statement Denouncing Police Brutality and in Support of Protesters
June 5, 2020
The Department of Government at New Mexico State University is committed to promoting a just and inclusive society, in which all people are valued and discrimination of any kind is unacceptable. We the faculty therefore add our collective voice to the widespread denunciation of systemic police brutality toward African Americans that has led to the murders of George Floyd, Breonna Taylor, Ahmaud Arbery, and all the other innocent victims killed over many years by racist law enforcement officers, too often with legal impunity and the reflexive support of their departments. See our full statement, see Department of Government NMSU Statement on Police Brutality and in Support of Protesters 5 June 2020 Dept of Government Statement on Police Brutality and Support for Protesters 5 June 2020
---
Graduating Students, May 2020 – CONGRATULATIONS!!!
Congratulations to all our students graduating this semester! We enjoyed honoring you at our reception on May 15 and wish you all good luck in your future endeavors. For the full list of students who are graduating in our undergraduate and graduate programs, see Govt graduating seniors May 2020
---
Enjoy this short video of our graduating students in the MPA, MA and BA programs:
---
Annual Awards Reception
Congratulations to our students on their department and college awards this semester! We hope you enjoy this short video celebrating their achievements:
For the full list of recipients, see here: 2020 Student Awards Reception.
It was great to see so many faculty, students, staff and friends for the first ever Zoom awards reception on May 13!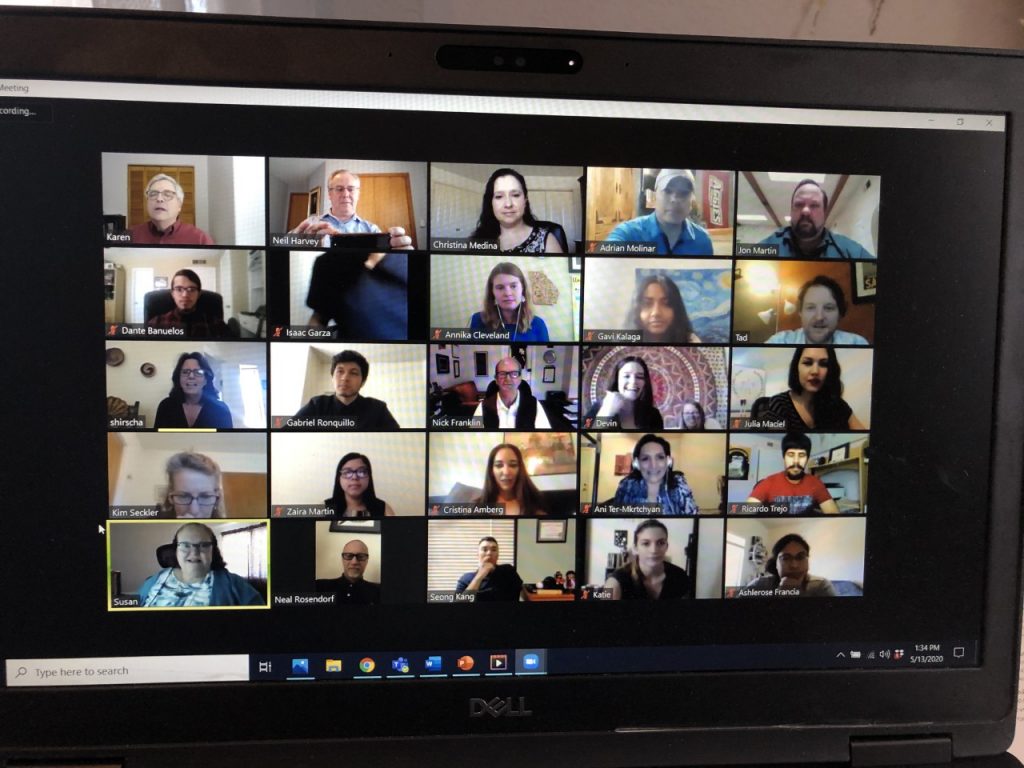 ---
Model United Nations at NMSU:
Interested in international affairs and participating in a dynamic student organization with a track record of success? If so, learn more about the Model UN program and how to join: Email aggiemun@gmail.com. 
---
Department of Government Social Justice Award 2020
Please note: Deadline for applications and nominations:  extended to 5.00pm, September 10, 2020
Please consider applying or nominating someone you know for the Department of Government's annual Social Justice Award. Please see  SOCIAL JUSTICE AWARD 2020 flyer for details.
---
Apply to graduate programs in the Department of Government
We are still accepting applications from qualified students to our two graduate programs: MA in Government and the nationally-accredited Masters in Public Administration (MPA).   For information about the content and requirements of our MA in Government, click   here, and for our MPA, click   here
For students interested in applying to the MPA program, please contact the MPA Director, Dr. Christina Medina at camedina@nmsu.edu
To apply to either of our graduate programs see:   Application Process for Graduate School at NMSU
To apply for a graduate assistantship, please fill out and submit this form: Graduate Assistantship Application (1)  and send to Patricia Vargas, Main Office, Department of Government or email it to pvargas@nmsu.edu
---
Masters Accelerated Program (MAP)
Qualified undergraduates can ask to take up to 12 credits of graduate-level coursework as part of the Masters Accelerated Program (MAP) and have these credits count both for the BA and an eventual Master's degree. If you are thinking of applying to the MA in Government or the Masters of Public Administration (MPA), speak with your professor about the MAP program. See the "Masters Accelerated Program in Dept of Government NMSU" link above for details.
---
FAQ #1
Q: What can I do with a Government degree?
A: Many things!!…But don't take just our word for it.
Read about our alumni and how their studies prepared them for a variety of rewarding careers.
See 
here
---
Service Learning
2018 Migration Crisis Service-Learning Study-Abroad Blog
This interdisciplinary, service-learning study-abroad course examines the current migration crisis in Europe, which has fundamentally affected and transformed the European continent. In particular, Germany has emerged as the political core of the crisis. This interdisciplinary study-abroad trip to southern Germany/Munich engaged students with the immediate social complexity of the integration of migrants in Germany. 
Model United Nations 2018-19
The NMSU Model United Nations Team travelled to Tucson to compete in CATMUN, a Model UN conference hosted by the University of Arizona on November 3, 2018. The team's twelve members represented a diverse array of countries in working toward solutions concerning suppressing the financing of terrorism, crimes involving internationally protected persons, and the regulation of genetic engineering and biotechnology. 
The Model UN team also hosted its annual Fall Conference for High School students on the NMSU campus the following weekend, November 9th-10th. The team competed successfully in the National Model UN Conference, in New York City during Spring Break 2019, as the Delegation of the Federal Republic of Somalia. See photo of the team, with the faculty adviser, Dr. Sabine Hirschauer.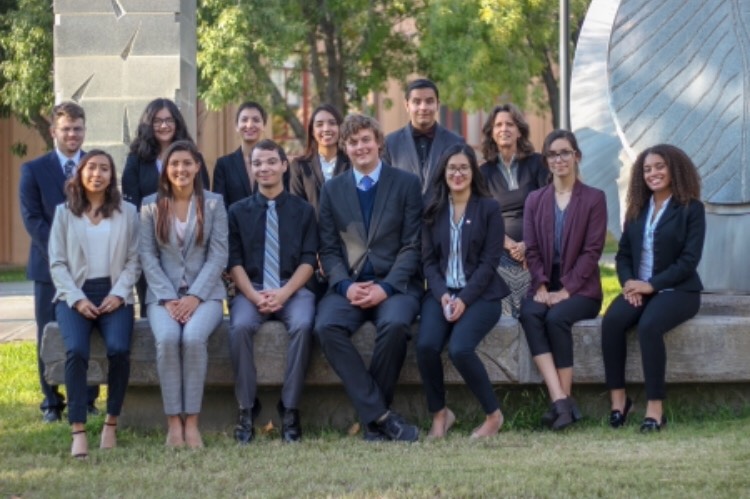 ---
Congratulations!
2020 Spring semester: Five Government students received awards from the College of Arts & Sciences: Julia Maciel (Outstanding Graduate Award), Cristina Amberg (Honorable Mention for Outstanding Graduate Award), Katelynn Goodman (Outstanding Undergraduate Award), Annika Cleveland (Outstanding Undergraduate Award) and Ricardo Trejo (Outstanding Student Service Award). See top of this page for details.
2019 At spring convocation, College Professor Kim Seckler received the Donald C. Roush award for Excellence in Teaching, while Emeritus Professor, Dr. Pat Hynes was recognized by the University Research Counticil for Exceptional Achievement in Creative and Scholarly Activity. Well done Kim and Pat!.   See full story here
2018: Model UN team wins Outstanding Delegation Award in New York.   See full story here
2017: NMSU team earns top awards at national Model U.N. competition   See full story here
Govt & Econ grad selected for Fulbright student award to South Korea.   See full story here
2016: Model UN team wins big at New York conference. See story   here.
NMSU Honors student Sarah Casson (BA Government and Spanish, 2013) on her Fulbright US Student Program Award. Read more about this achievement   here.
Rylee Stenberg, an undergraduate senior in Government and Law & Society, has been featured by the national Women in Politics: College Edition program of MSNBC. Read more about this achievement   here.
2015: Model UN team wins the top award   again!!!
Video of the NMSU Model UN team in New York, April 2015,   click here.
---
Past Events
See The Department Of Government's Event Photos Here 
---
Labor Condition Application (LCA)
New Mexico State University has filed a Labor Condition Application (LCA) seeking
employment for One H-1b nonimmigrant as an Assistant Professor.