Welcome!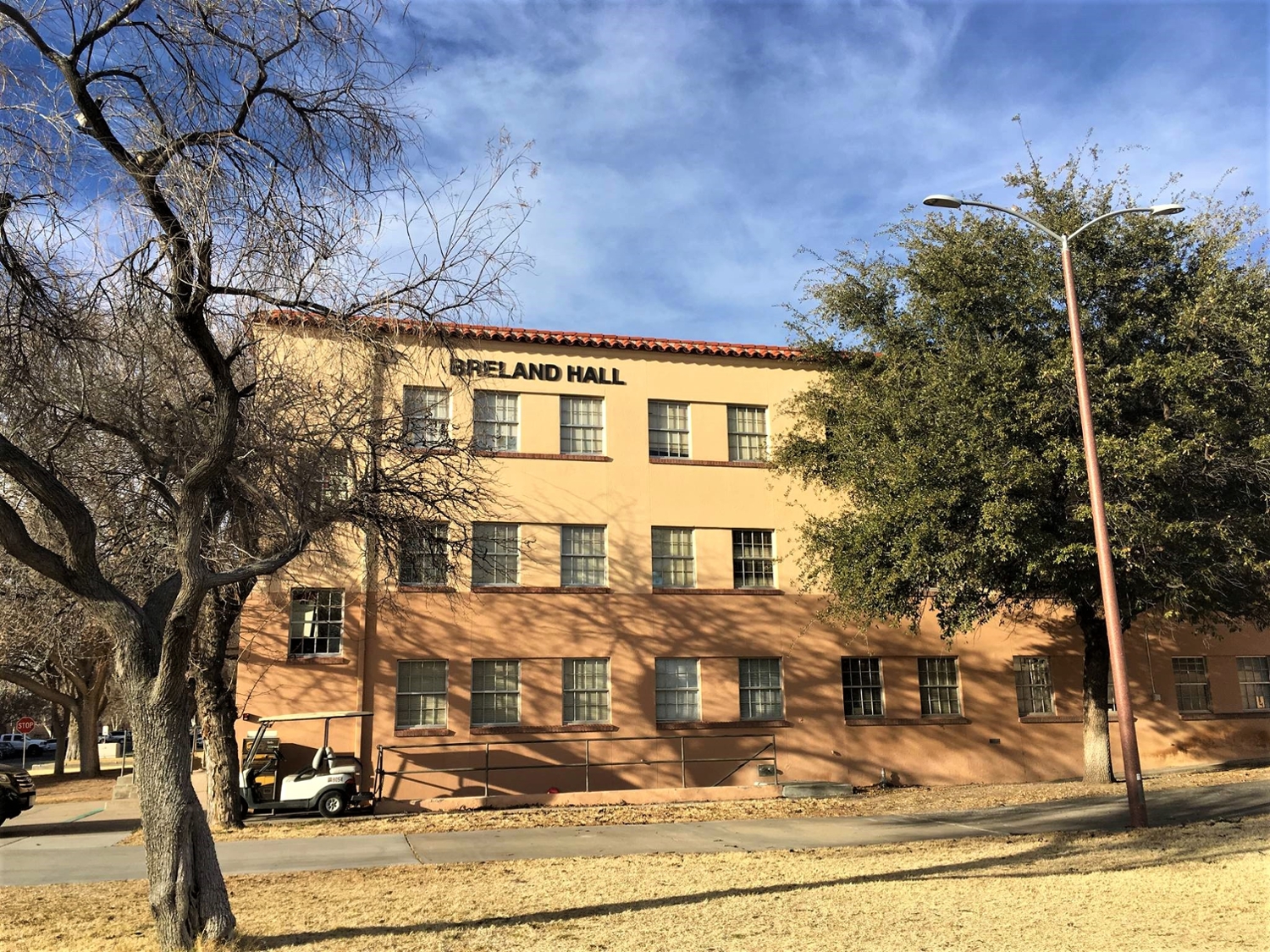 ---
We are in the NEWS! 
Many thanks to Riley Robertson for her excellent article about our department, published in The Round Up this week (Jan. 24, 2023): Please follow this Link!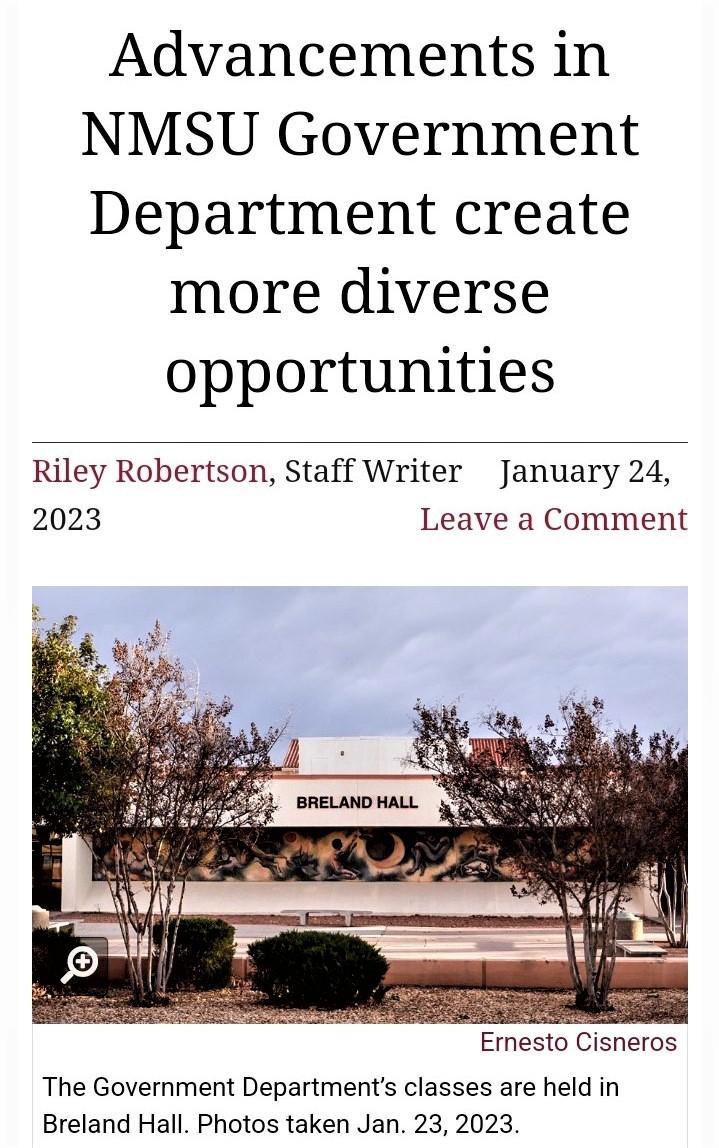 ---
Internationalization of the Curriculum - see a list of programs and courses at NMSU with international content, including classes that meet General Education and Viewing the Wider World requirements. Current list for Spring 2023 is here.
---
Congratulations to all our Fall 2022 Graduates. 
A special congratulations to the Fall 2022 Lujan Family Senior of the Year Award Recipient: 
Karyssa Garcia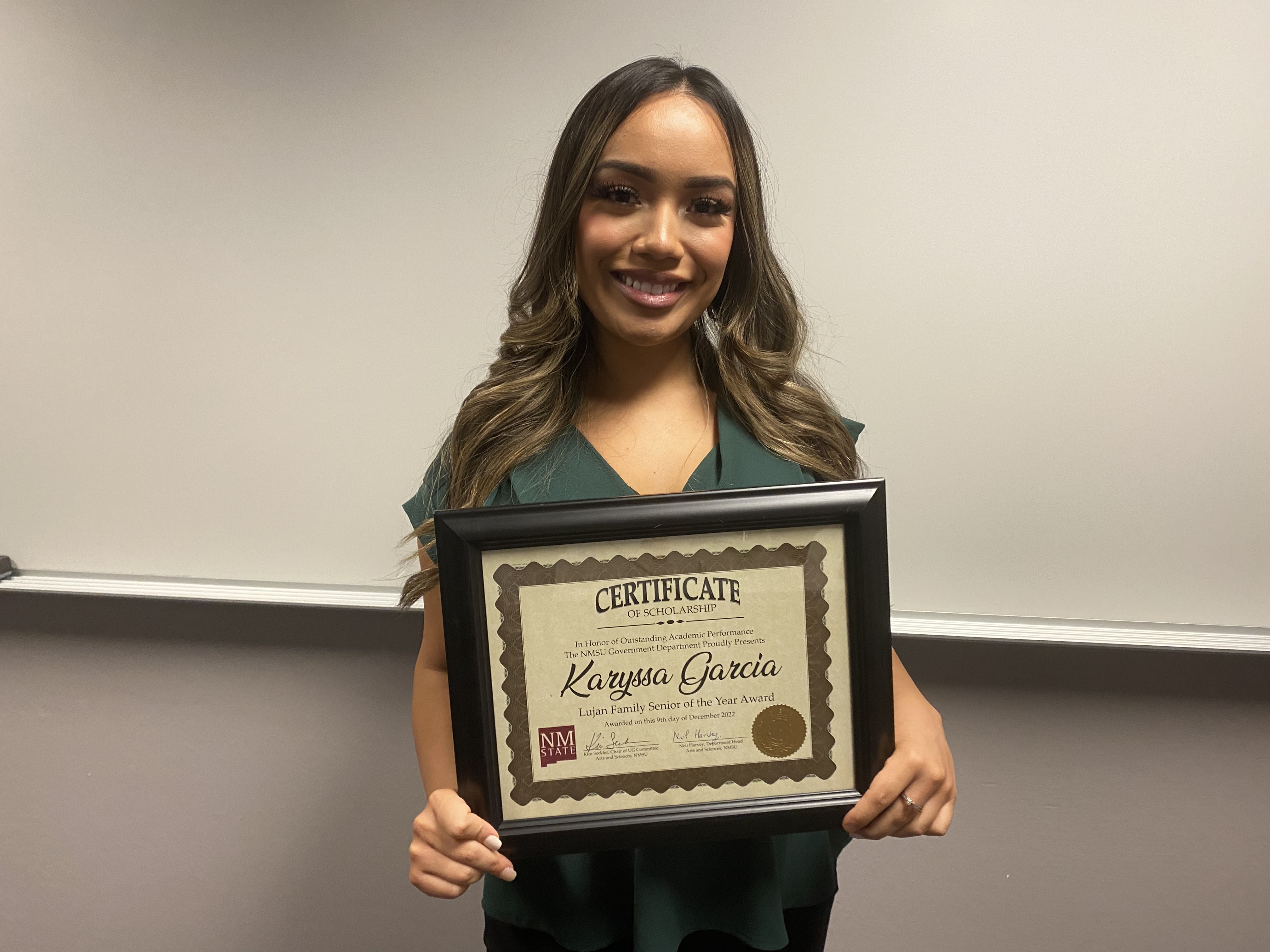 Also, Congratulations to Camira Haughton the NMSU Department of Government's first student to graduate with a Master of Arts in Government and and a Masters in Public Administration.
---
Please Congratulate: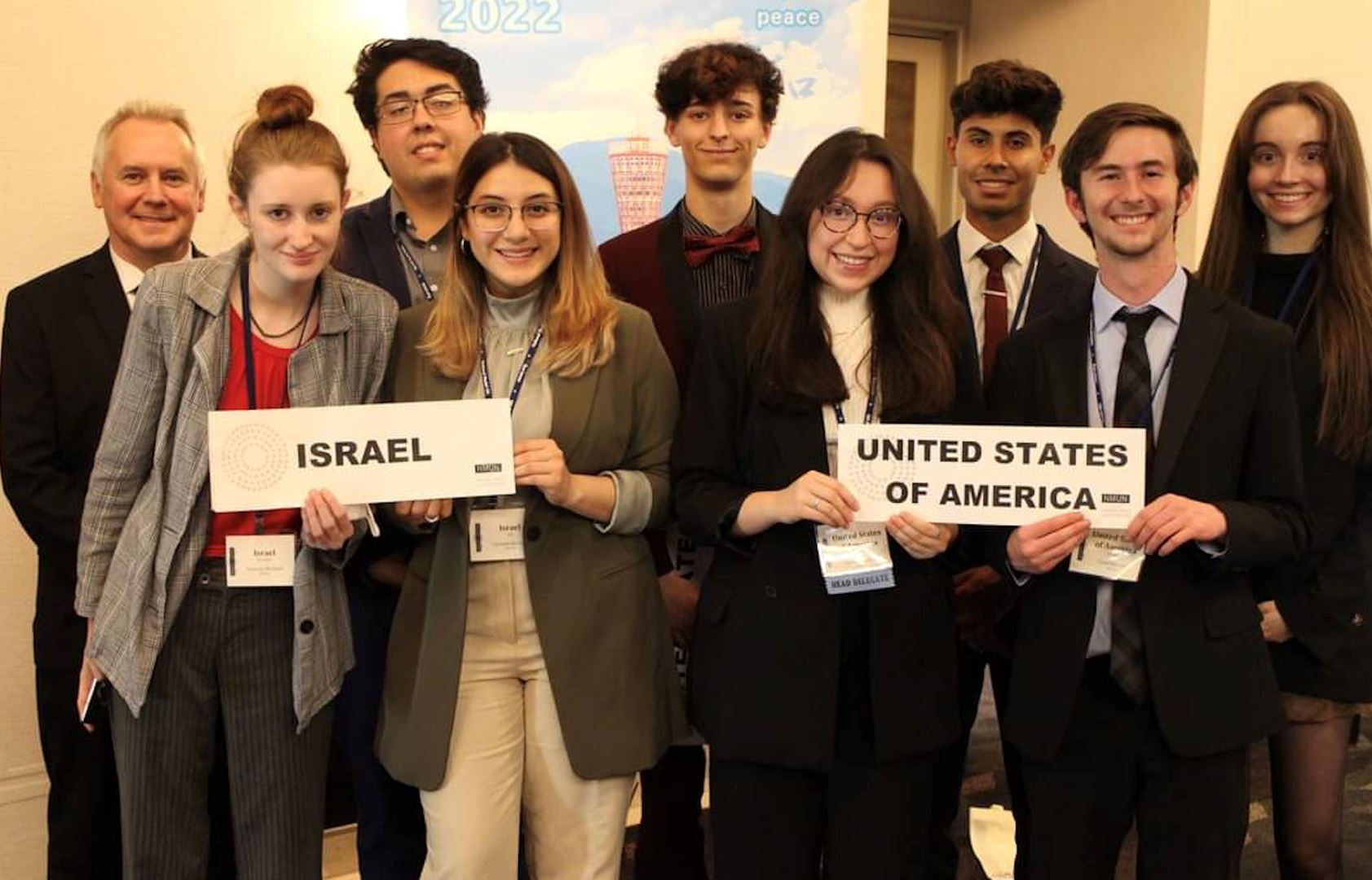 NMSU's Model United Nations (MUN) team t
raveled to Kobe, Japan, Nov. 20-26, 2022 for an in-person International Model UN Conference. NMSU students were named Outstanding Delegation, the highest recognition awarded.
---
Internship Opportunity - Think New Mexico!  
Leadership Internship
Think New Mexico is pleased to offer four paid Leadership Internship positions each summer to college or graduate students. Interns have the opportunity to meet with Think New Mexico board members and leaders in state government, as well as to assist Think New Mexico's staff in researching and developing policy proposals. In order to ensure that the internship is accessible to students regardless of their financial situation, interns receive the City of Santa Fe's Living Wage, currently $12.95 per hour.
Applicants for the Leadership Internship should have good research, computer, and communications skills, an interest in public policy, and the willingness to work on a variety of different tasks – some more interesting than others – as a part of a team. Strong preference is given to applicants who have some background in New Mexico and who are committed to working in New Mexico after they graduate.
Application Instructions
Your application should include:
a cover letter telling us more about why you are interested in working with Think New Mexico,
a resume,
a brief writing sample, such as an essay or research paper you have written for school (~5 pages) and
contact information for two references.
Please email your application to kristina@thinknewmexico.org. If you prefer, you can mail it to 1227 Paseo de Peralta, Santa Fe, NM 87501
Deadline: applications for summer 2023 Leadership Internships must be received by 5:00 p.m. on Friday, March 31, 2023.
 
---
NEW! Masters Accelerated Program (MAP)
Qualified undergraduate students can ask to take up to 12 credits of graduate-level coursework as part of the Masters Accelerated Program (MAP) and have these credits count both for the BA and an eventual Master's degree. If you are thinking of applying to the MA in Government or the Masters of Public Administration (MPA), speak with your professor about the MAP program. See the "Masters Accelerated Program in Dept of Government NMSU" link above for details.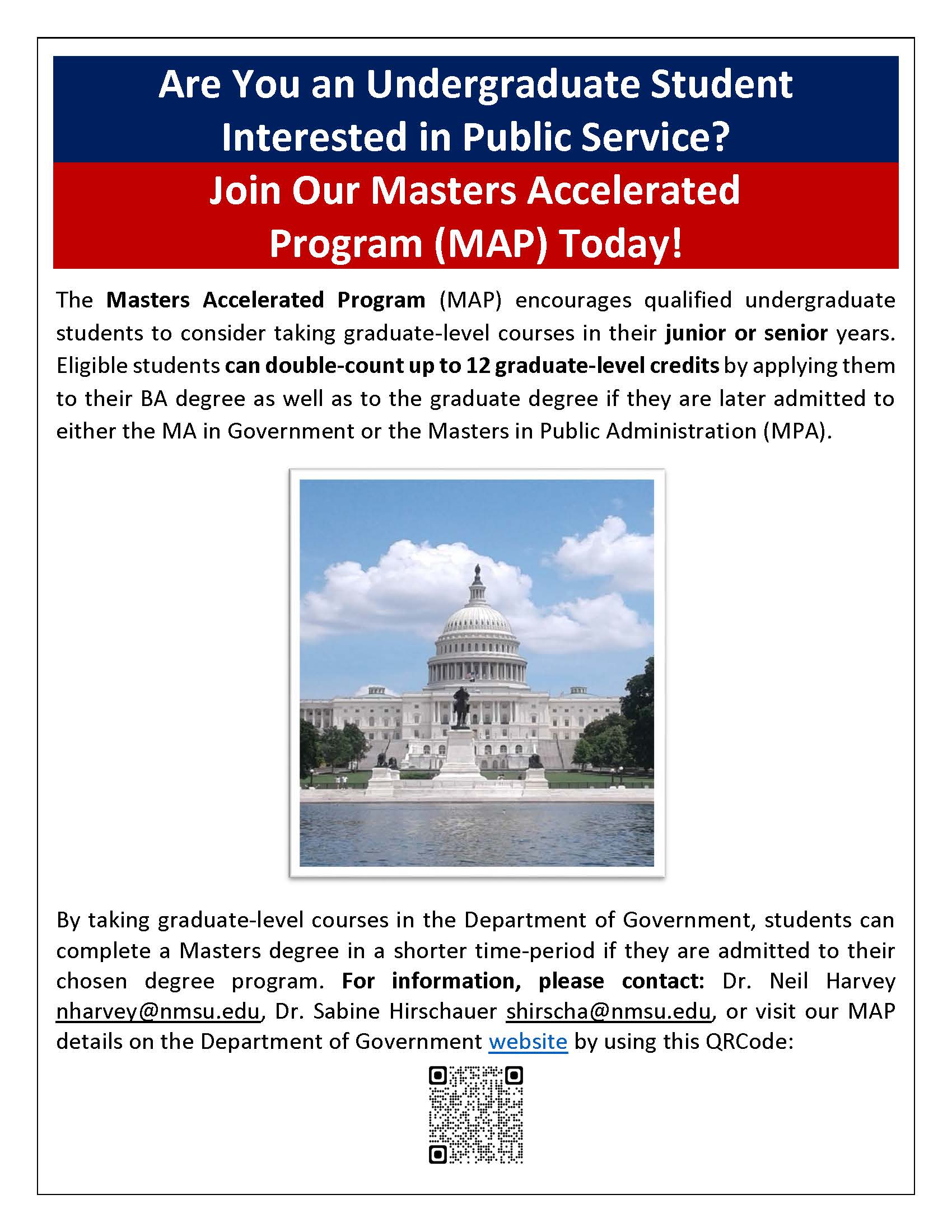 ---
What can I do with a Government degree? Many Things!
Q: What can I do with a Government degree?
A: Many things!!…But don't take just our word for it.
Read about our alumni and how their studies prepared them for a variety of rewarding careers.
See 
here
---
International and National Scholarship Opportunities 

Wonderful Opportunities for our undergraduate and graduate government students! Please click on this link for a current list. Please contact Dr. Andrea Orzoff, director of NMSU's Office of National Scholarships and International Education (ONSIE) aorzoff@nmsu.edu
---
Spring 2023 Classes
Classes in Spring 2023 - Please contact either the course instructor and/or Dr. Neil Harvey (Department Head) at nharvey@nmsu.edu if you have any questions about a particular class or general questions about the Fall 2022 semester.   
---
Model United Nations at NMSU
Interested in international affairs and participating in a dynamic student organization with a track record of success? If so, learn more about the Model UN program and how to join: Email aggiemun@gmail.com. 
 
---
Recent Research:
Read the report "The Pains & Profits of Immigrant Imprisonment: Migrant Testimonies from ICE Detention Centers in the El Paso ICE Field Office." Click AVID NSF-REU Report Final Version 25 November 2020. This report is the result of collaborative research between Advocate Visitors with Immigrants in Detention (AVID) and student participants in the National Science Foundation-Research Experience for Undergraduates (NSF-REU) Site Program on Immigration Policy and Border Communities. 
---