Welcome!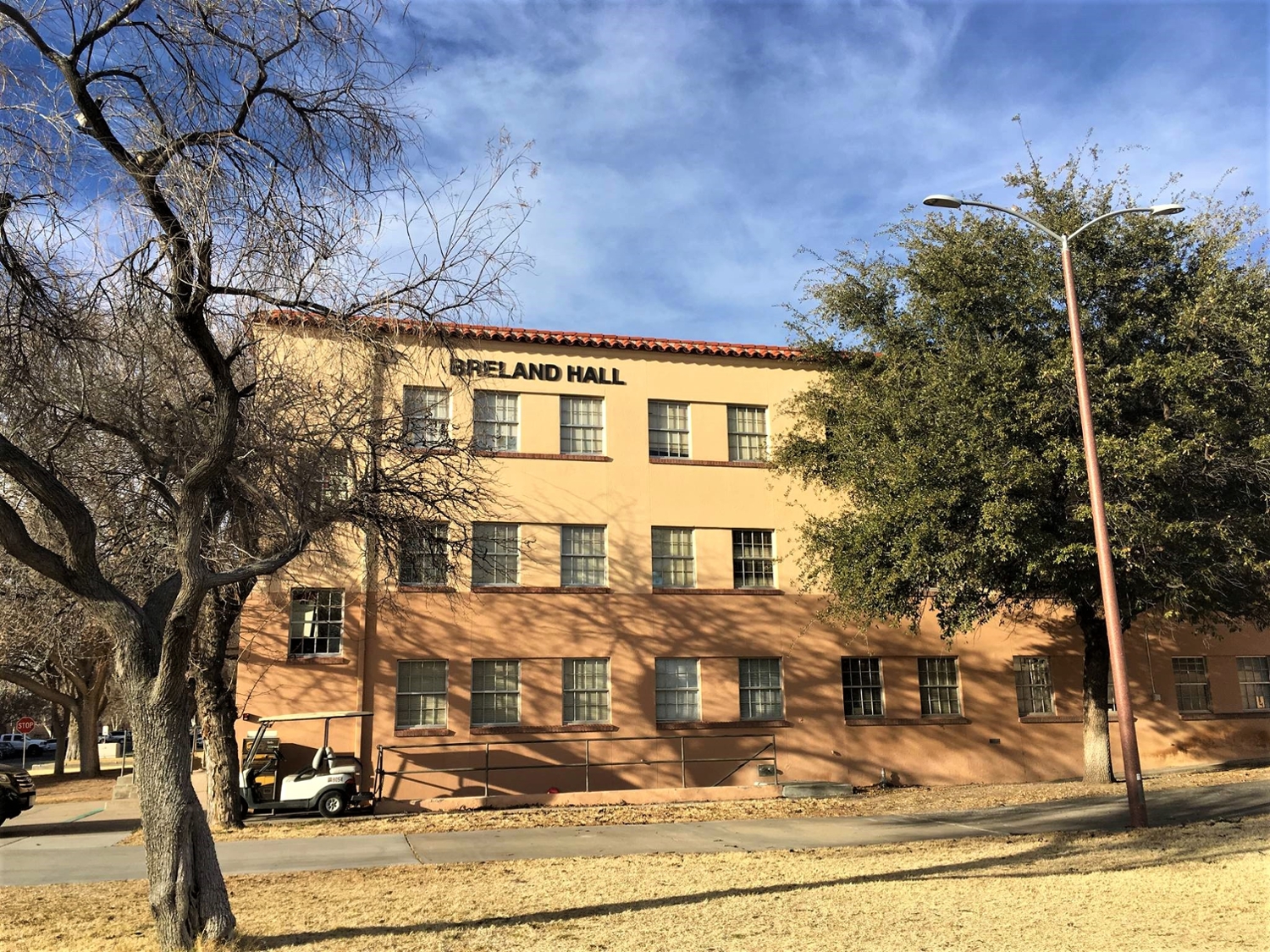 ---
NOW Accepting Applications for NSF REU
We are currently accepting applications for the National Science Foundation Research Experience for Undergraduates (NSF REU): Collaborative Site Program on Immigration Policy and US-Mexico Border Communities
The program will be held in El Paso/Las Cruces, May 28-July 22, 2023, preceded by one week of online meetings and workshops, starting May 22, 2023).
Applicants must still be undergraduates when participating in the program.
Minimum GPA: 3.0
Major in social science field, related area or interdisciplinary program
Applicants must be a US citizen, US national of Legal Permanent Resident
What Students Get
$5000 basic stipend
for those students traveling from outside the region: return airfare and campus accommodation at NMSU or UTEP
local transport and meals stipend of $1300
books stipend of $200
support for conference participation to present findings (up to $400)
Training in the study of immigration and border communities, though presentations, workshops on research methods, field trips and collaborative community-based research projects
Mentorship in completing a research projects, presenting and/or publishing results in academic venues, and guidance on applying to graduate school and/or careers in social science fields
---
The Department of Government's 2021-22 Awardees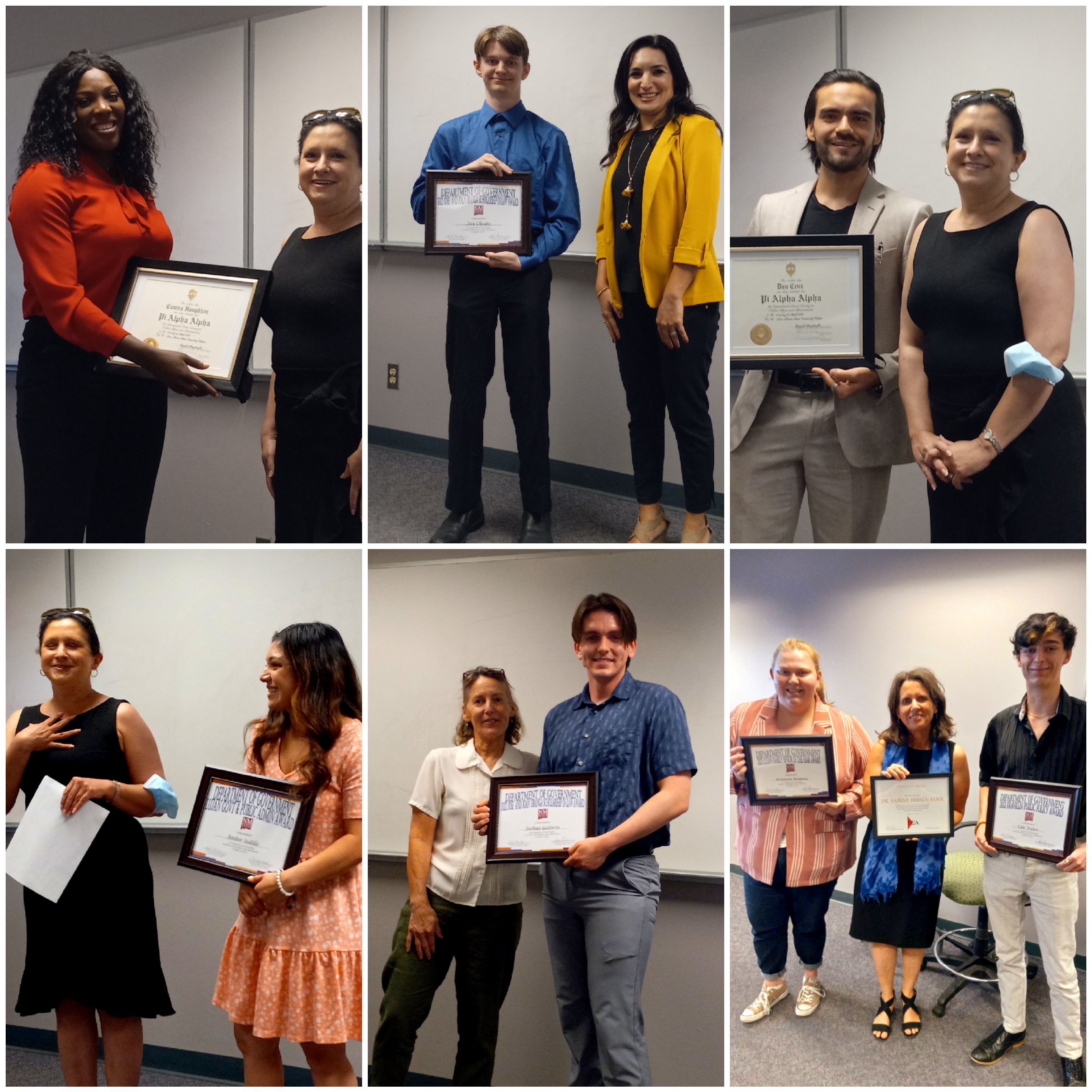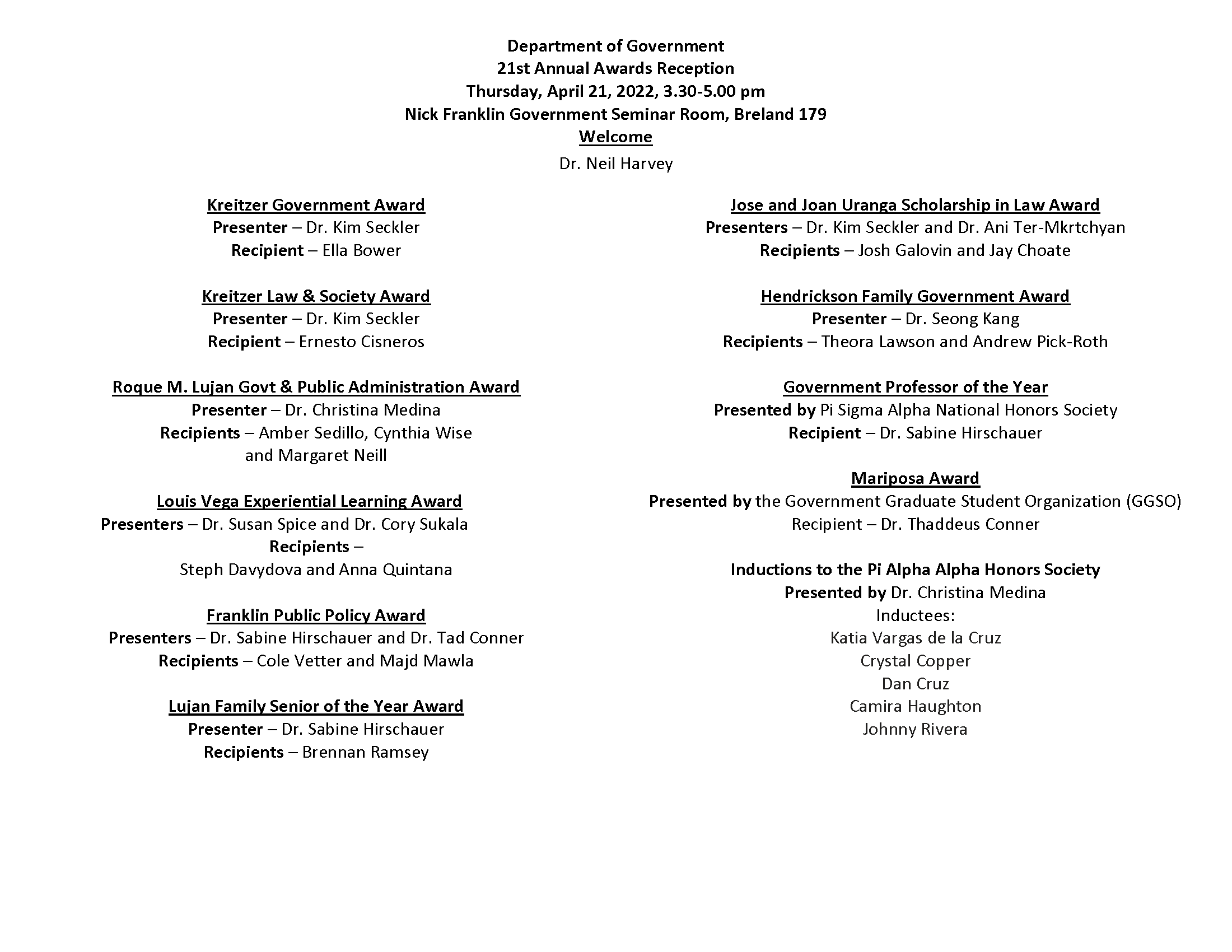 Please Congratulate: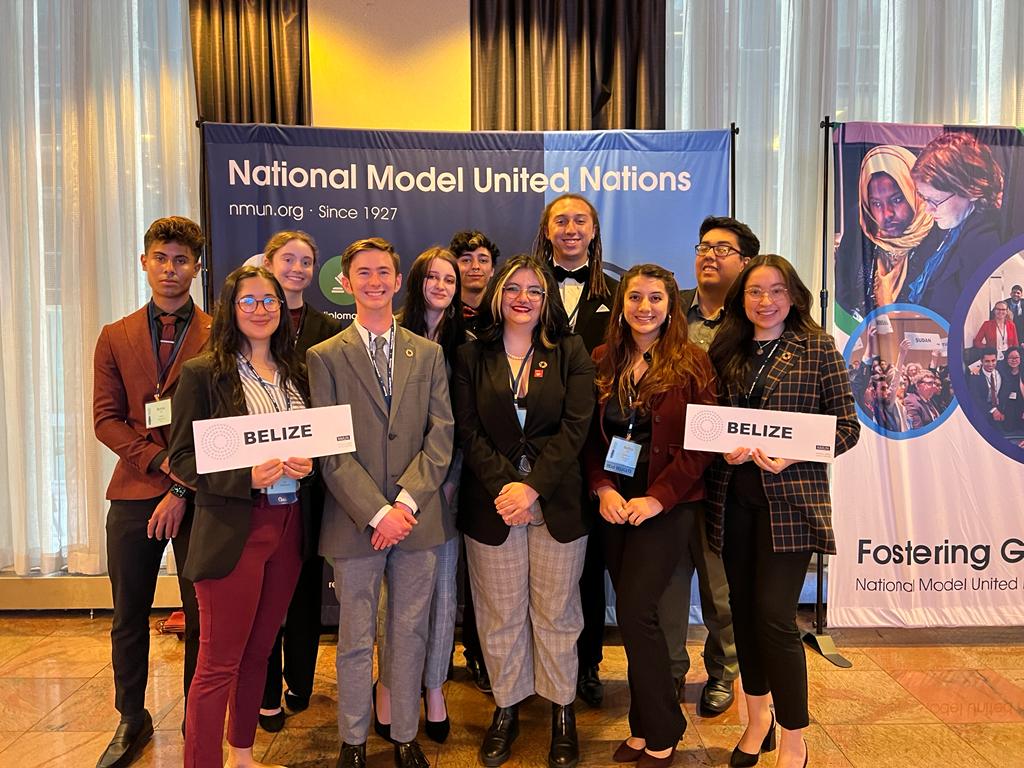 NMSU's Model United Nations (MUN) team for receiving the highest award - the Outstanding Delegation Award - during the 2022 National MUN New York Conference April 10 – 14. Also, please congratulate Citlalli Benitez for her Outstanding Delegate Award, with the UN Economic Commission for Latin America and the Caribbean (ECLAC); Jasmine Recinos and Angel Payan-Martinez for their Best Position Paper Award with the International Organization for Migration (IOM) committee and Iliana Graciela Viscarra for her Best Position Paper Award with the General Assembly Third Committee (GA3), working on human rights, global humanitarian and social affairs.
SO super proud of you!
---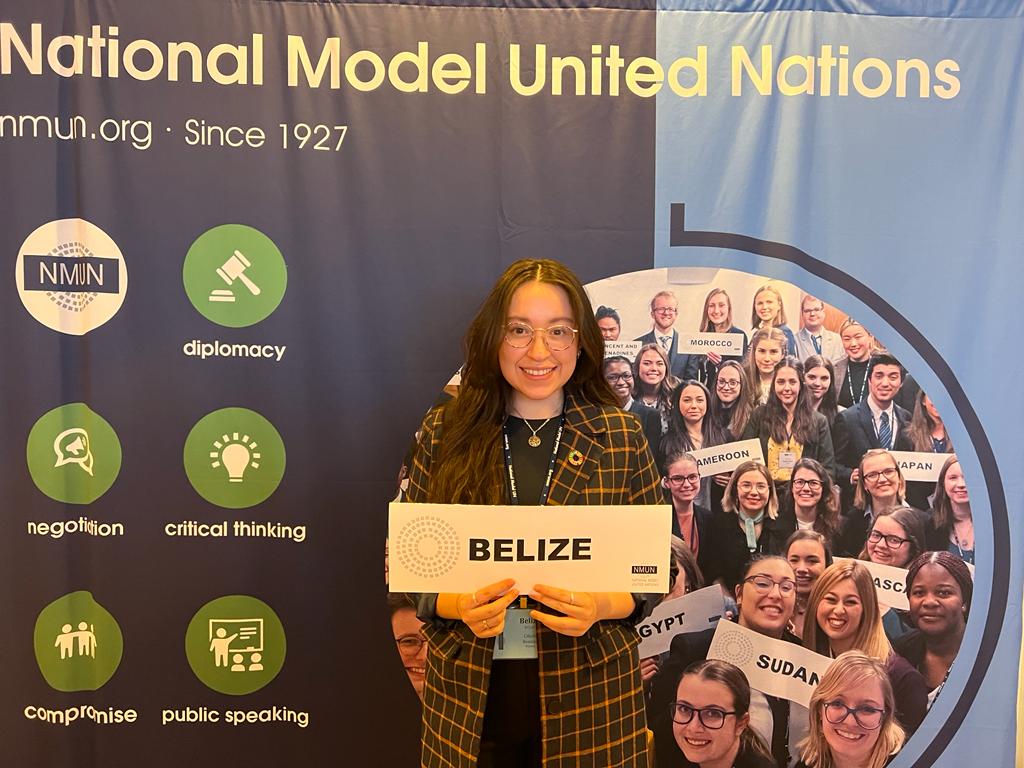 ---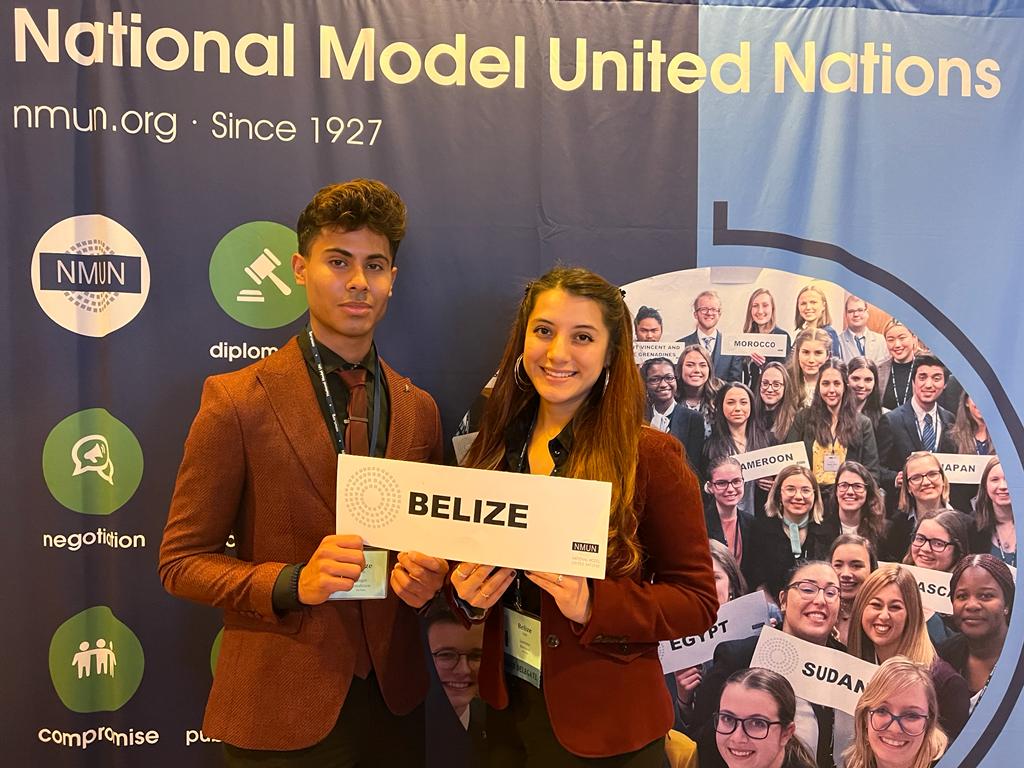 ---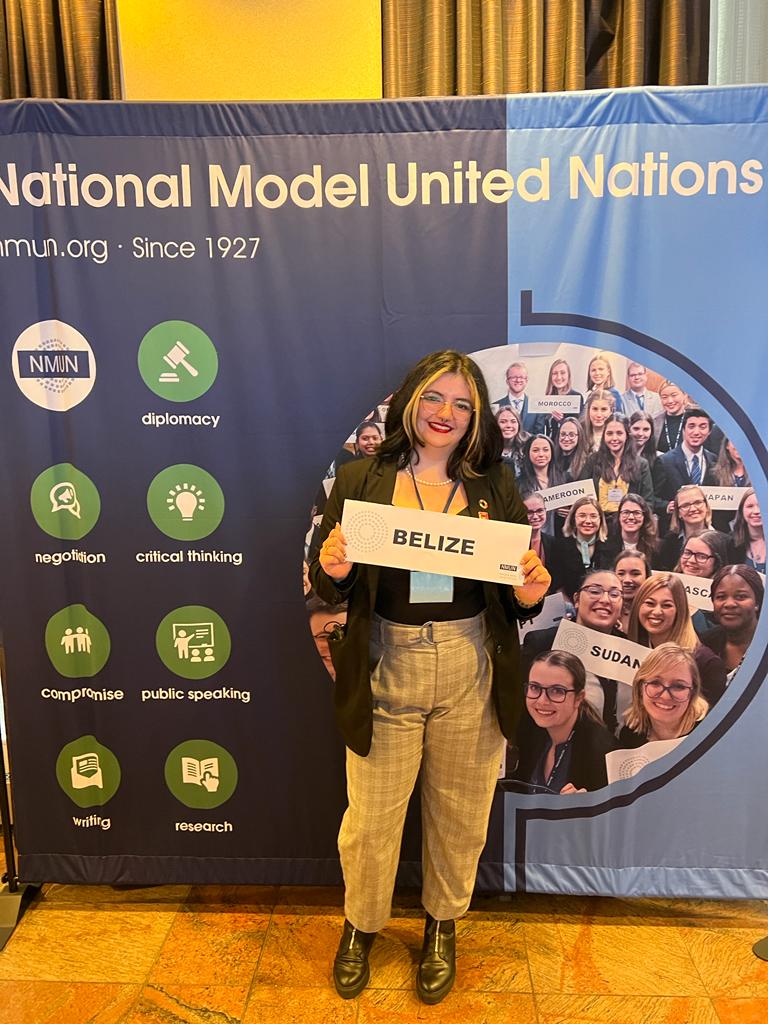 ---
NMSU's International Curriculum 2022 
Below please find a link to a list of programs, as well as General Education, Honors, and VWW classes with significant international content for summer and fall 2022. The goal of this document is to make it easier for students to identify classes with international content that count towards whatever degree they are taking. At a time when understanding of international issues is more necessary than ever, we hope that students take advantage of these courses and programs at NMSU.  
2022 International Curriculum - Summary of Programs
---
Congratulations, Pat! 
Retired Administrative Assistant Patricia Vargas at her retirement reception Friday, February 18, 2022, celebrating 23 years of dedicated service to NMSU's Department of Government. We miss you, Pat!!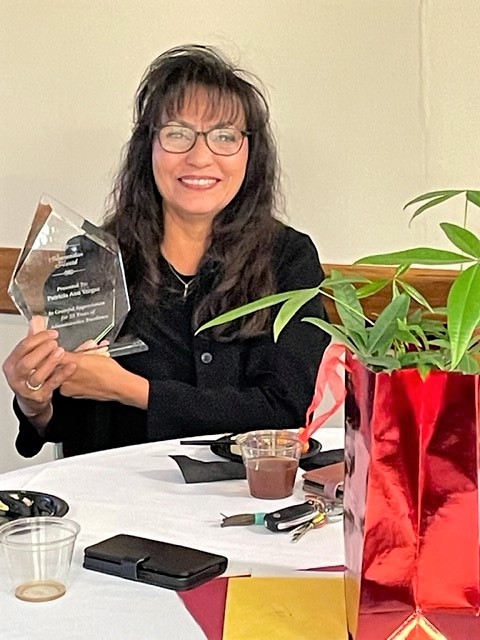 ---
Job Opportunity - Think New Mexico!  
Job Description - Field Director
Background:
Think New Mexico is a nonpartisan, results-oriented think tank. Through its research and advocacy, Think New Mexico is dedicated to pursuing policy reforms that will improve the lives of all New Mexicans.
Position Summary:
Think New Mexico is seeking a full-time Field Director to manage our social media, grassroots outreach and coalition building. We offer a generous compensation package, including competitive salary, retirement plan, paid vacation, and health, dental and disability insurance.
Qualifications:
• Bachelor's Degree or higher
• Excellent written and verbal communication skills
• Computer proficiency required: Microsoft Office (Word, Outlook, Excel, Powerpoint), social media (Facebook, Twitter, Instagram)
• Preference for someone with basic information technology troubleshooting skills
• Preference for someone with video, photography, audio production and editing skills
Duties of the position include:
Advocacy & Research
• Lobby members of the Legislative & Executive branches during annual 30- or 60-day legislative session
• Assist with research and data analyses relating to Think New Mexico policy initiatives
• Attend and speak at functions outside of the office as representative of Think New Mexico (conferences, legislative committee hearings, etc.)
and much more ...... 
Please submit cover letter, resume, and references to:
Fred Nathan, Executive Director
Think New Mexico, 1227 Paseo de Peralta, Santa Fe, NM 87501
---
Fall 2022 Apply to Graduate Programs in the Department of Government
We are still accepting applications from qualified students to our two graduate programs: MA in Governmentt and the nationally-accredited Masters in Public Administration (MPA). For information about the content and requirements of our MA in Government, click here, and for our MPA, click here
For students interested in applying to the MPA program, please contact the MPA Director, Dr. Christina Medina at camedina@nmsu.edu
To apply to either of our graduate programs see: Application Process for Graduate School at NMSU
To apply for a graduate assistantship, please fill out and submit this form: Graduate Assistantship Application (1)  and send to Dr. Neil Harvey, Main Office, Department of Government or email it to nharvey@nmsu.edu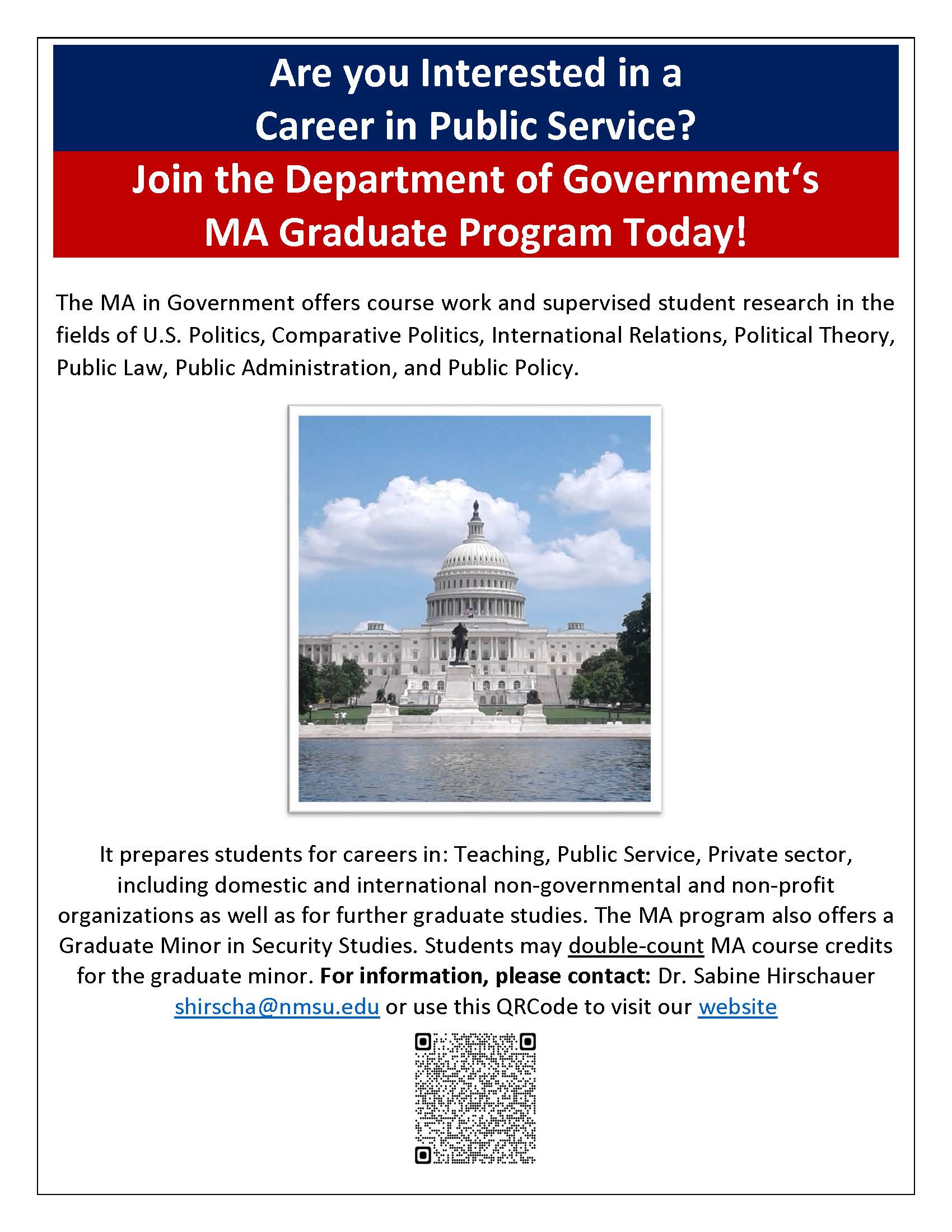 ---
NEW! Masters Accelerated Program (MAP)
Qualified undergraduate students can ask to take up to 12 credits of graduate-level coursework as part of the Masters Accelerated Program (MAP) and have these credits count both for the BA and an eventual Master's degree. If you are thinking of applying to the MA in Government or the Masters of Public Administration (MPA), speak with your professor about the MAP program. See the "Masters Accelerated Program in Dept of Government NMSU" link above for details.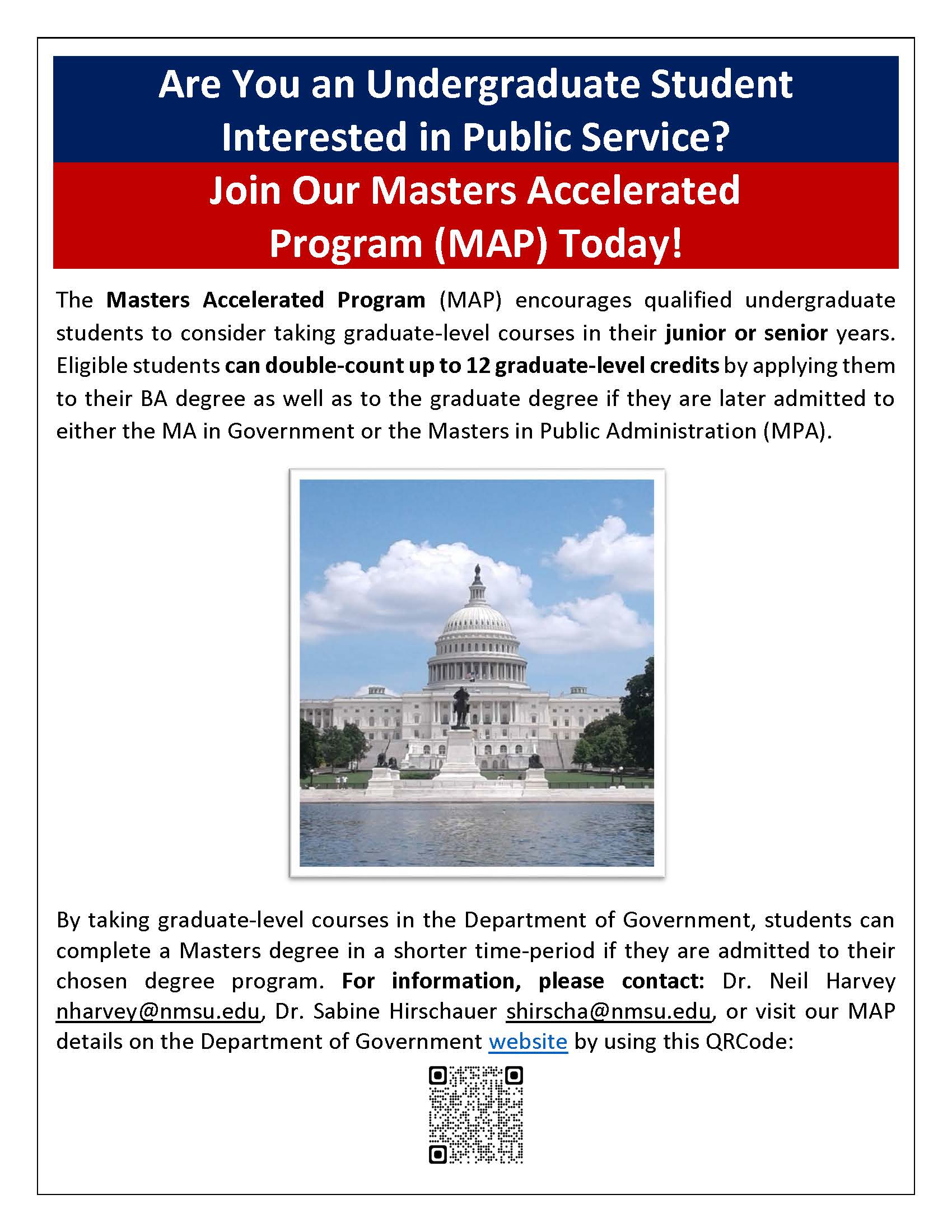 ---
What can I do with a Government degree? Many Things!
Q: What can I do with a Government degree?
A: Many things!!…But don't take just our word for it.
Read about our alumni and how their studies prepared them for a variety of rewarding careers.
See 
here
---
International and National Scholarship Opportunities 

Wonderful Opportunities for our undergraduate and graduate government students! Please click on this link for a current list. Please contact Dr. Andrea Orzoff, director of NMSU's Office of National Scholarships and International Education (ONSIE) aorzoff@nmsu.edu
---
Fall 2022 Classes
Classes in Fall 2022 - Please contact either the course instructor and/or Dr. Neil Harvey (Department Head) at nharvey@nmsu.edu if you have any questions about a particular class or general questions about the Fall 2022 semester.   
---
National Political Science Honor Society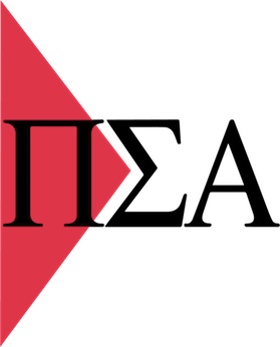 Are you interested in political issues, such as voting rights, the upcoming elections, international relations and political philosophy? If so, please join the NMSU chapter of the National Political Science Honor Society (Pi Sigma Alpha). See this Application Flyer for details. For more information, visit our Pi Sigma Alpha web page
---
Model United Nations at NMSU
Interested in international affairs and participating in a dynamic student organization with a track record of success? If so, learn more about the Model UN program and how to join: Email aggiemun@gmail.com. 
 
---
Recent Research:
Read the report "The Pains & Profits of Immigrant Imprisonment: Migrant Testimonies from ICE Detention Centers in the El Paso ICE Field Office." Click AVID NSF-REU Report Final Version 25 November 2020. This report is the result of collaborative research between Advocate Visitors with Immigrants in Detention (AVID) and student participants in the National Science Foundation-Research Experience for Undergraduates (NSF-REU) Site Program on Immigration Policy and Border Communities. 
---